Amblyopia Brochure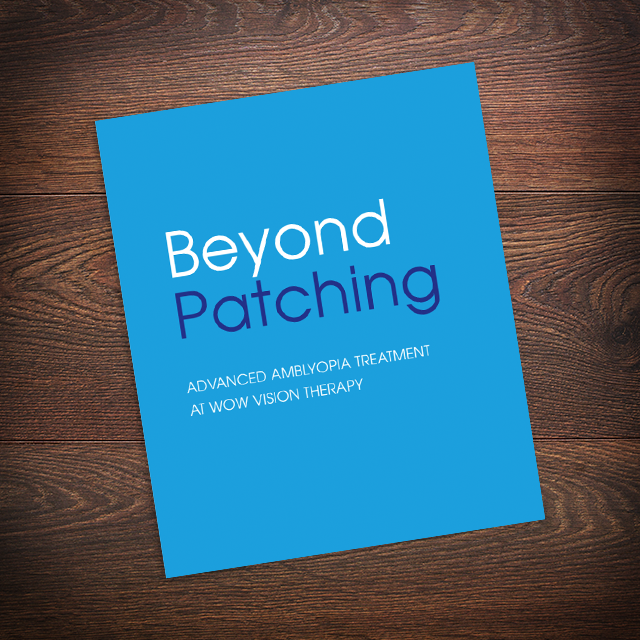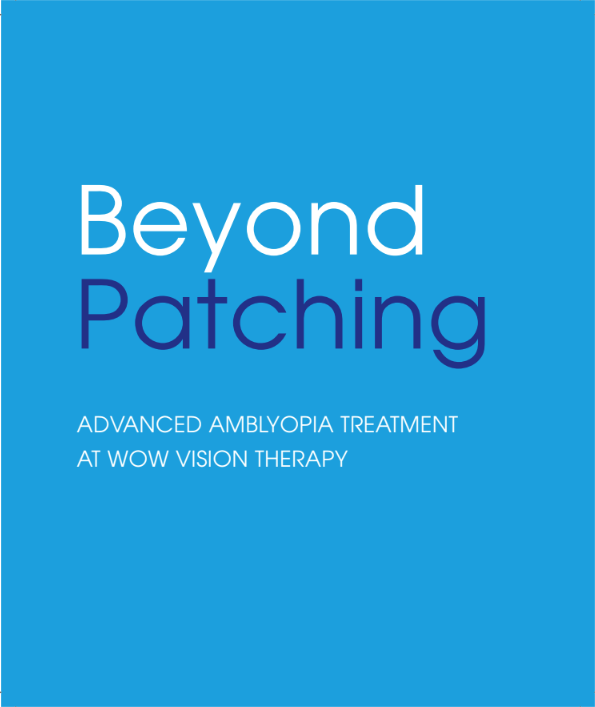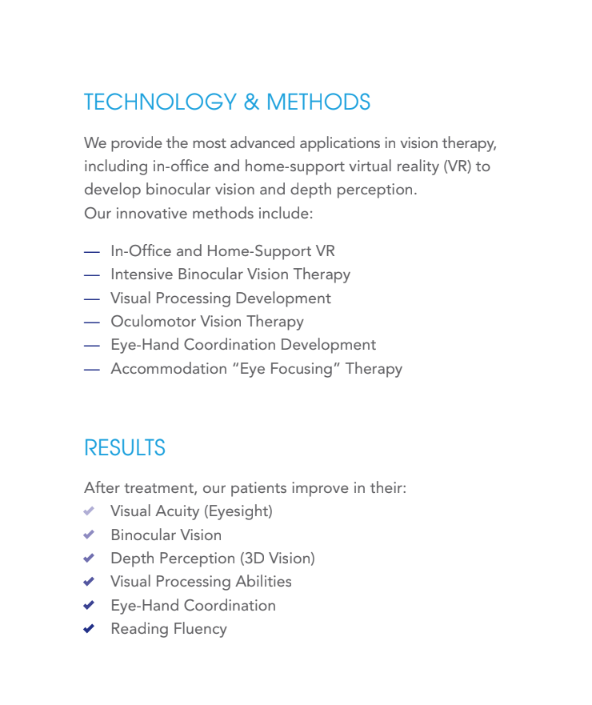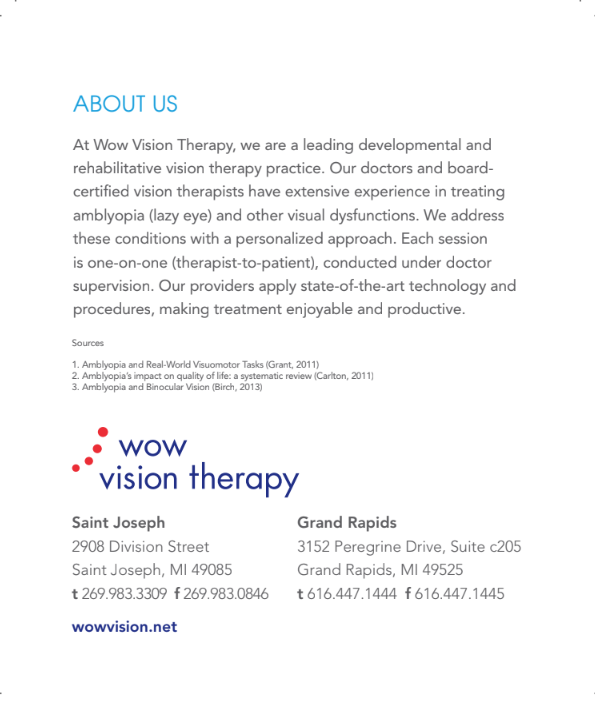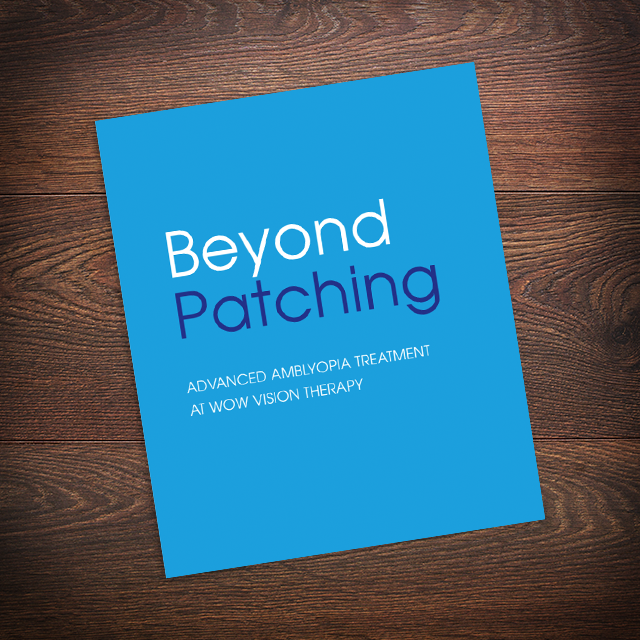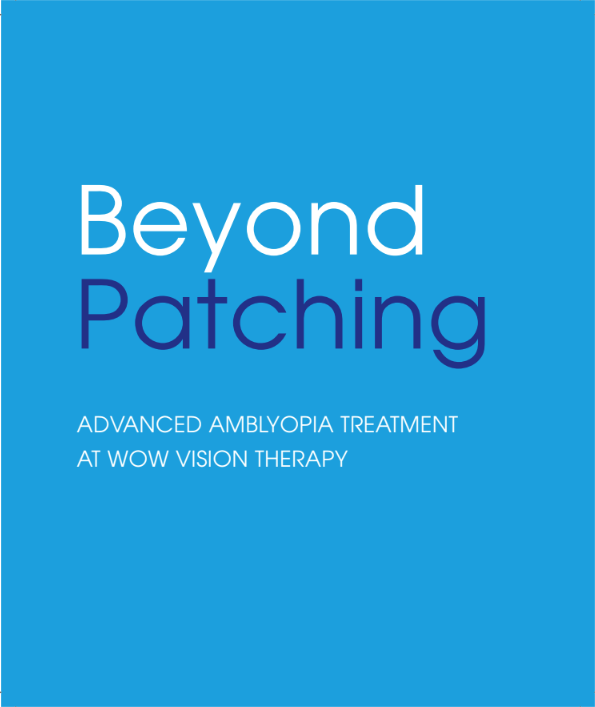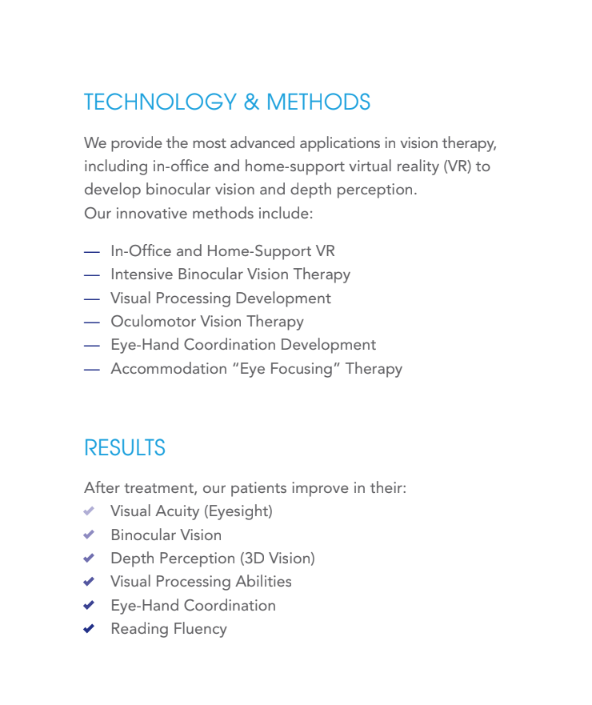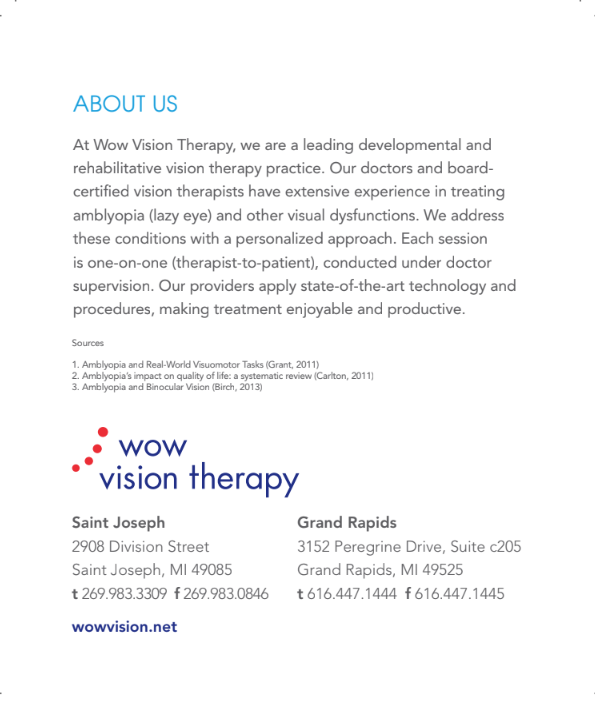 Amblyopia Brochure
This 5" x 6" brochure is an overview on Amblyopia. This brochure can be given to your patients to further educate them on Amblyopia. See the excerpt below for more details on Amblyopia.
About Amblyopia
Amblyopia or "lazy eye" is a neuro-developmental vision problem that occurs during infancy and early childhood. Those with amblyopia experience reduced eyesight typically in one eye, even when best corrected with glasses or contacts.
Causes
When the ability to focus both eyes (binocular vision) is disrupted during early childhood development, the brain turns off or suppresses the incoming signals from the affected eye.
Amblyopia occurs when vision development is disrupted in one of the following ways:
Strabismic Amblyopia - Crossed or turned eye, known as strabismus.

Refractive Amblyopia - Unequal refraction: farsightedness, nearsightedness and/or astigmatism greater in one eye.

Deprivation Amblyopia - Light blockage to the eye, such as congenital cataracts.
Effects
Those with amblyopia may have reduced eyesight varying from:
Mild <20/25 - 20/40
Moderate 20/50 - 20/80
Severe worse than 20/100
Prevalence
Amblyopia affects 1 in 30 individuals or nearly 3.5% of the population. (1)
Hidden
Often amblyopia goes undetected, but can be easily identified with a comprehensive eye health and vision evaluation.
Common Signs & Symptoms (1)
Squinting or shutting an eye
Impaired depth perception
Poor eye-hand coordination
Tripping and/or accident prone
Trouble with micro eye movement, slower reading speed and comprehension
Basic Amblyopia Treatment
Until recent advancements, treating amblyopia with an eye patch has been the general model of care. However, patching:
Is very uncomfortable for the patient
Has multiple negative side effects (2)
Has limited results based on age and usually not recommended past age 10 (3)
Does not usually develop the patient's ability to obtain normal binocular vision with depth perception
Now there are better evidence-based methods for treating amblyopia.
Advanced Amblyopia Treatment
At Wow Vision Therapy, we provide comprehensive office-based vision therapy and innovative home-support for more effective results. Our advanced treatment:
Is not limited by age.
Is enjoyable and productive.
Utilizes the latest technology & methods.
Technology & Methods
We provide the most advanced applications in vision therapy, including in-office and home-support virtual reality (VR) to develop binocular vision and depth perception. Our innovative methods include:
In-Office and Home-Support VR
Intensive Binocular Vision Therapy
Visual Processing Development
Oculomotor Vision Therapy
Eye-Hand Coordination Development
Accommodation "Eye Focusing" Therapy
Results
After treatment, our patients improve in their:
Visual Acuity (Eyesight)
Binocular Vision
Depth Perception (3D Vision)
Visual Processing Abilities
Eye-Hand Coordination
Reading Fluency

Sources
1. Amblyopia and Real-World Visuomotor Tasks (Grant, 2011)
2. Amblyopia's impact on quality of life: a systematic review (Carlton, 2011)
3. Amblyopia and Binocular Vision (Birch, 2013)