Vision & Learning Brochure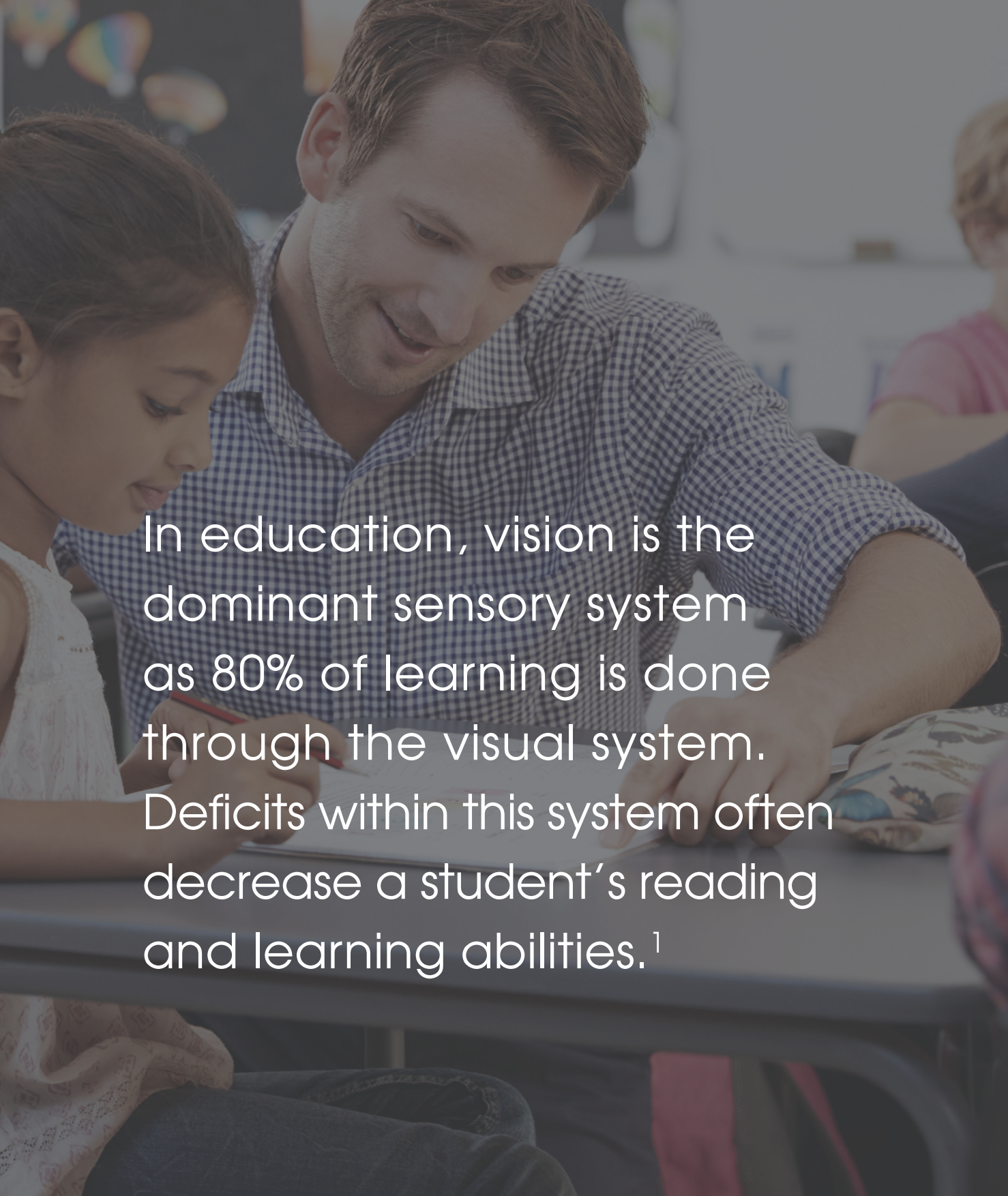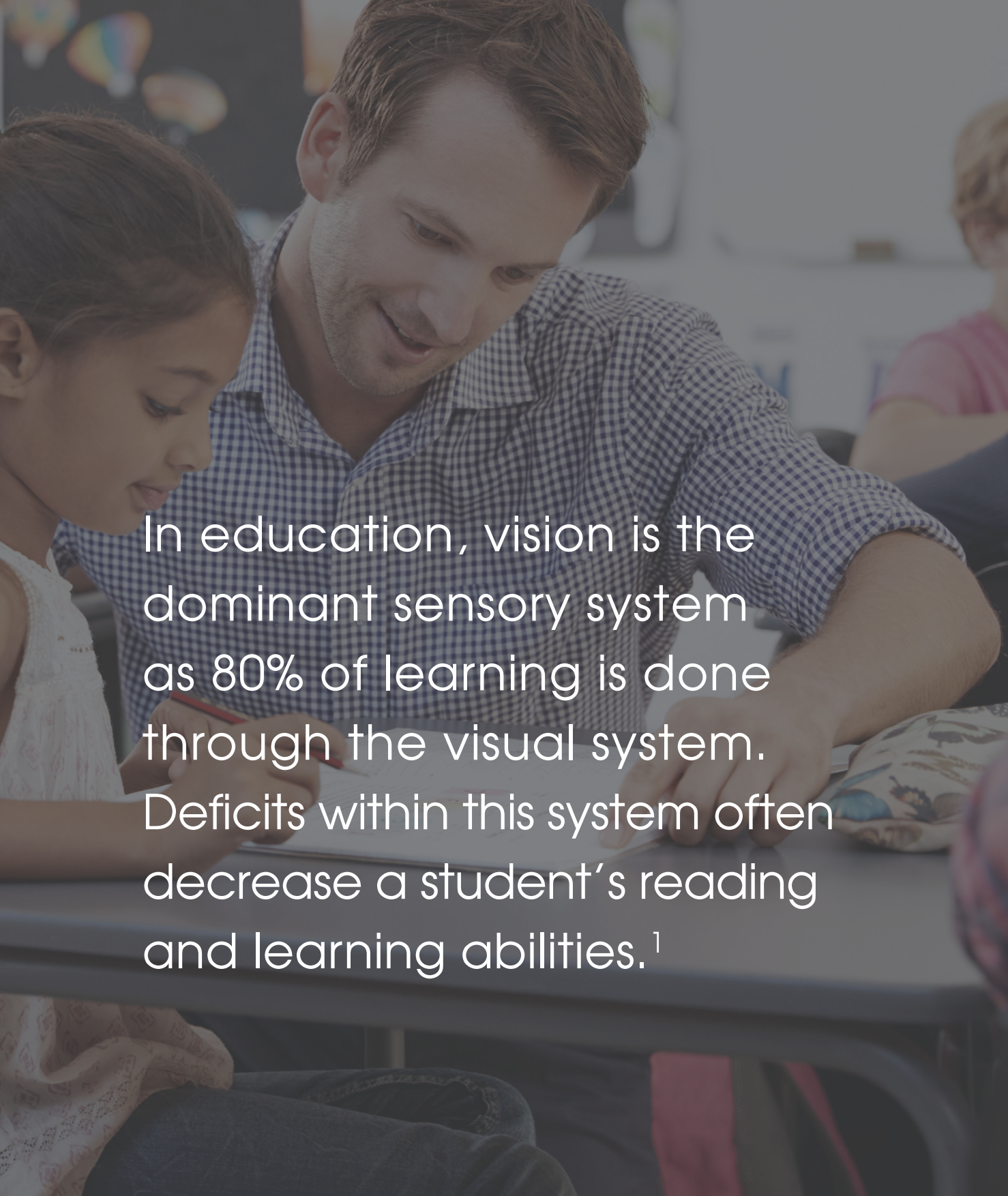 Vision & Learning Brochure
This 5" x 6" brochure is an overview on Vision & Learning/Reading. Give this brochure to your patients to further educate them on how we can help with their vision & reading/learning problems. See the excerpt below for more details on this brochure.
Enhancing Academic Success
TREATING VISION-RELATED READING & LEARNING PROBLEMS AT WOW VISION THERAPY
In education, vision is the dominant sensory system as 80% of learning is done through the visual system. Deficits within this system often decrease a student's reading and learning abilities.1
DID YOU KNOW?
Even with 20/20 eyesight, several vision conditions can affect a child's ability to read and learn. These vision conditions are not always obvious and often go undetected during school vision screenings. Left untreated, reading and learning often become difficult:
Test of a page may become blurry even drift apart, being double. Words may even move or jump around.
Students with a vision-related learning problem typically show signs of:
Eye discomfort

Motion sickness

Headaches

Double vision

Poor tracking

Visual confusion

Head tilting

Problems with math

Clumsiness

Poor reading abilities

Poor attention and concentration

Poor handwriting skills

Skipping lines while reading

Closing an eye while reading

Letter or number reversals

Slow at completing tasks
The most common vision conditions that affect learning are:
Accommodative Dysfunction

Oculomotor Dysfunction

Visual Processing Disorder
Researchers from Harvard Medical School and Boston Children's Hospital found that "deficits in visual function are far more prevalent in school-aged children with developmental dyslexia than in typically developing readers."2 These visual deficits are often treatable with vision therapy.
ADVANCED VISION THERAPY
Research shows, home-based treatment models are significantly less effective than office-based vision therapy paired with home reinforcement.3 At Wow Vision Therapy, our advanced office-based approach goes beyond basic at-home treatment. Our doctors and board certified vision therapists provide innovative vision therapy that incorporates coordinated movement, balance, auditory processing and cognitive skills. We also provide the most advanced technology including in-office and home-support virtual reality. This treatment model gives our patients the visual abilities they need to succeed in and outside of the classroom.
Our advanced vision therapy includes:
Visual processing development

Oculomotor therapy

Accommodation "focusing" development

Binocular vision therapy

Visual imagery therapy

Visual-motor integration development

Visual-vestibular integration development
RESULTS
Our patients report improvements in:
Academic performance

Reading and handwriting

Visual memory

Work performance

Attention and concentration

Confidence

Sports
Sources
1. Visual and binocular status in elementary school children with a reading problem (Christian et al., 2018)
2. Frequency of Visual Deficits in Children With Developmental Dyslexia (Raghuram et al., 2018)
3. Randomized Clinical Trial of Treatments for Symptomatic Convergence Insufficiency in Children (Scheiman et al., 2008)
ABOUT US
At Wow Vision Therapy, we are a leading developmental and rehabilitative vision therapy practice. Our doctors and board certified vision therapists have extensive experience in treating vision and learning dysfunctions, as well as other visual conditions. We address these conditions with a personalized approach. Each session is one-on-one (therapist-to-patient), conducted under doctor supervision. Our doctors and therapists apply state-of-the-art technology and procedures, making treatment enjoyable and productive.